Cagliari is an ancient city overlooking the Gulf of Angels, founded by the Phoenicians. The political, economic, tourist and cultural capital of Sardinia rises up from seven hills: Castello, San Michele Hill, Bonaria Hill, Monte Urpinu, Monte Claro, Tuvu Mannu and Tuvixeddu.
A capital with a thousand-year-old tradition, Cagliari represents Sardinia's historical administrative hub, having acted, under the name of Caralis, as capital of the province of Sardinia et Corsica during the Roman domination and as capital of the Kingdom of Sardinia from 1324 to 1720, and again from 1798 to 1814. Its port is one of the busiest in the Mediterranean thanks to its importance at a national and international level; it is used for commercial, industrial and tourist purposes as well as to provide facilities services to passengers.
The workshop will be held at the THotel, a beautiful and very modern 4 stars hotel.
The T-Hotel conference room can accommodate up to 200 participants and is fully equipped with modern audio-visual facilities.
Adjacent to conference hall there is a large foyer that will be used for reception and the registration desk. 
The T-Hotel is located in Via dei Giudicati, which is the modern part of Cagliari, close to the Teatro Lirico and 20 minutes walk from the historical city centre.
Discover the T-hotel facilities and services here.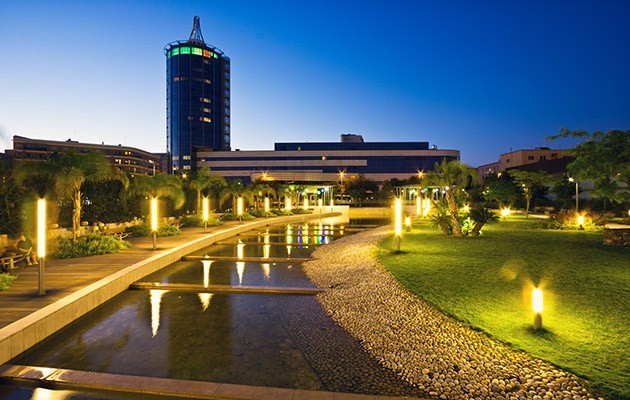 How to get to T-Hotel from city center
The distance from Cagliari railway station (located in the city center, Piazza Matteotti) to T-Hotel is approximately 2km.
To reach the Hotel, take bus n° M (direction Via San Gottardo) and alight at the stop in Via Bacaredda. The hotel is 200 meters to your right. Alternatively, take bus n° 1 (direction Via F. Gioia) from the central bus-stop in Largo Carlo Felice and alight in Piazza Giovanni XXIII. The hotel is 150 meters to your left.